VISIERA

Curve studied by Agnesi (1718-1799).
Visiera: visor in Italian.
The name visiera was given by Peano in 1887, probably by analogy with versiera.
The visiera is the antihyperbolism of the versiera with respect to its base and the symmetric image of its vertex with respect to its base; in the above equation, the visiera is the antihyperbolism with respect to O and x = a of the versiera:
.
Like all rational circular cubics, the visiera can be defined as:
- The cissoid of a circle and a tangent at A to this circle, with pole O, the point diametrically opposed to A (here, A(0,2a)).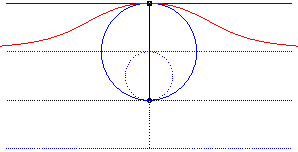 - The pedal of a parabola with respect to the symmetric image of the vertex about the focus (here, the parabola with vertex A and focus F(0,a)).
- The inverse of an ellipse with eccentricity
with respect to one of its secondary summits (here, the ellipse
).
And, like all right rational circular cubic, it can be constructed



Do not mistake the visiera for the conchoid of Nicomedes.


© Robert FERRÉOL 2017